I posted about how I got invited to go to the Phillies game with my very best friend from high school, Staci. We have been friends forever and I jumped at the chance to get out of the house and have some fun. I knew it was going to be fun but I had no idea. Staci, her brother Scott, Scott's buddy and I all went together and it started off fun. Just goofing and joking in the car. We got to the ballpark in one piece ( ;D ) and found a place to park. We found our way in, got our rally towels and set off on the hunt for a good spot. You see, we had standing room tickets which means you have the freedom of standing anywhere in the ballpark but you don't have a seat.

We found a good general area and so we stalked a couple of tables and finally found one to pounce on. We jumped in and beamed as we found an ideal spot to watch the game. The only disadvantage of standing room is that you have to guard your spot to be sure no one jumps on your real estate. It didn't take long before the fun began.

Our very awesome view: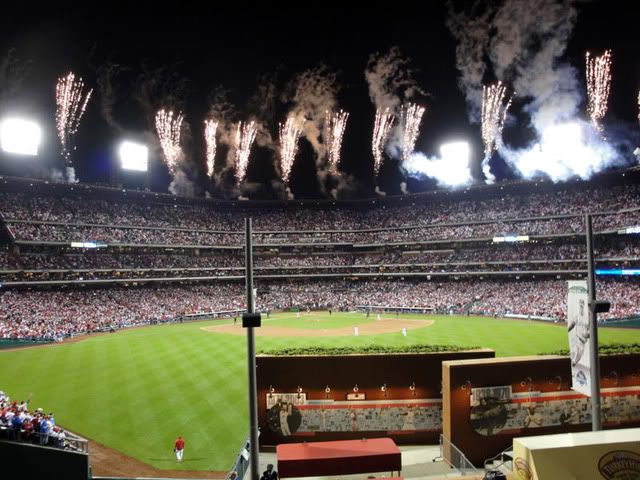 Come on Little Roy



Ewwwwww



We were insanely close to the bullpen



Warm ups looks like an adult movie that night. ;D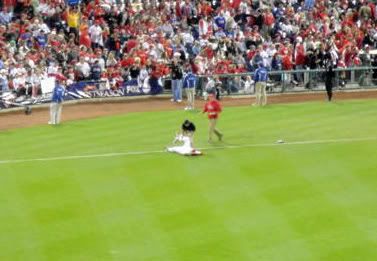 Werth and the Phanatic



Look in the top left corner. Umm... how about you don't push her into the bullpen



Right before they broke the game wide open



Mitch Williams walked RIGHT by us.



Staci and I



They won!



The pictures we didn't get were the fight nearby, ME ON THE JUMBO TRON (not kidding!), the Fox camera guy in our face so we thought we were gonna end up on TV :D, the guy they rushed past us in the mini ambulance and the Fox announcers that were only about 40 feet from where we watched the game.

Oh man did I have fun. This post does it no justice. It was definitely one of those "had to be there" experiences.